Maggie Craig at the Edinburgh International Book Festival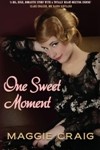 Thursday 19th August, 11.00am – 12.30pm    WRITERS' RETREAT, EDINBURGH INTERNATIONAL BOOK FESTIVAL
Writing Workshop: Writing The Epic Romance
Want to write the Scottish Gone With The Wind or Doctor Zhivago, set a passionate love story against wars, revolutions, fire and flood? Then come along to this session with Maggie Craig, historian, novelist and author of One Sweet Moment, a tale of Old Edinburgh which has been described as 'Dickensian in the richness of its storytelling'.  In association with the Society of Authors. At the Writers' Retreat, tickets £15 (£12 conc). For more information visit www.edbookfest.co.uk.