Literature brought to life by dance…
Since I love books, I've found I tend to like most things associated or derived from literature such as film adaptations, art work and even literary home wares. So I thought I'd try literature-inspired ballet and last week I sent to see the Shanghai Ballet's production of Jane Eyre. Apparently Jane Eyre is as popular in China as it is here so I was curious to see how they adapted it for the stage.
Rather than replicating the text exactly, the ballet takes inspiration from it's lead characters and Bertha, the so-called madwoman in the attic, is thrust center stage in a haunting and elegiac retelling. While I wasn't completely convinced by the chemistry between Jane and Mr Rochester, Bertha played by Fan Xiaofeng, was utterly spellbinding.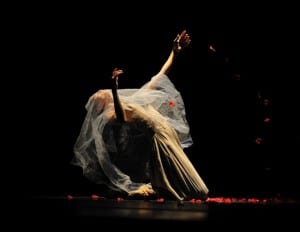 Her central duet with Mr Rochester, filled with aching love and flaring violence, competes for dominance with the pain of remembered passion which has been made intolerable by madness. It was an unconventional and beautiful re-interpretation that made me want to see more literature brought to life by dance.
What books would you like to see on the ballet stage?
Sophie Robinson, Publishing Assistant