A less-than-typical London Tour…
This weekend, I enjoyed a lovely surprise-visit from my Italian cousin and her family, which saw me taking them on an afternoon walk through a bit of London. I find the responsibility that comes with playing 'London guide' quite daunting, especially when you've only got a few hours to play with and the aim was just "to wander" (big sights like Buckingham Palace, Tower of London etc would be done on another day).
So I opted for a stroll that started on the vibrant Southbank (yes, that's the London Eye over there, but check out the quirky exhibitions – currently with a horticultural bent), over Embankment Bridge with the view of London's interesting skyline, up to Trafalgar square, now sporting the huge blue cockerel by Katharina Fritsch on the empty fourth plinth –  much to my visitors' delight.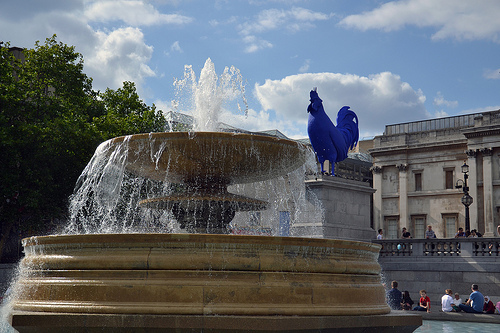 A pit-stop at the National Portrait Gallery, specifically to see the current BP Portrait Awards exhibition (my sight-seeing wild-card) happily proved a hit, especially with the children (aged 11, 14 and 17) who enjoyed the diversity of the paintings (from two-metre-high canvases that almost look like photographs, to small impressionistic oil paintings) and saw them deliberating at length over which were their favourites and enthusiastically pulling their parents over to show them 'a really cool one'.  They may not be looking at Renoirs or Van Goghs but it's a lovely way to get teenagers interested in art galleries and they (voluntarily) spent far more time in there than I could have anticipated.
Crossing the Mall with a fleeting glance at Buckingham Palace in the distance, we proceeded onto the Horse Guards Parade, or, as I pointed out, the venue for the Beach Volleyball events at this summer's London Olympics. We missed the pomp and ceremony of the Changing of the Guards, but instead witnessed a more human side to the royal guards when we realised one young officer was having a terrible time staying awake – the sudden jerk of his ornately-plumed helmet (as he caught himself once again falling asleep) giving away his predicament, poor soul.
Then it was on to Big Ben and Westminster Abbey but the architectural marvel was somewhat overshadowed by the crowds protesting against the current crisis in Egypt. So as conversation turned from cathedrals to current politics, we rounded up the afternoon with a long walk along the Thames to Vauxhall, beginning with the waterfront view of the Houses of Parliament and finishing with a final photo-op in front of MI6.
It may not have been the most orthodox of London Tours, but sometimes it's good to look at the capital from a slightly different perspective.
Chiara Priorelli, Publicity & Online Marketing Manager