Literary spotlight on Charlotte Street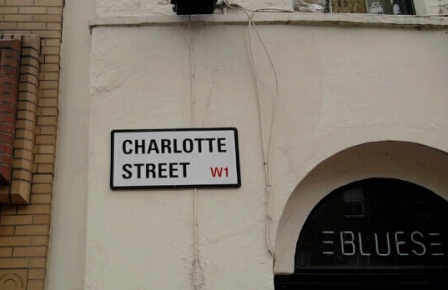 I've been reading a little about Danny Wallace new debut novel entitled Charlotte Street. I don't know much about Danny Wallace myself, aside from the fact that he's also a journalist, but the title of his book caught my eye. Because there is in fact a Charlotte Street just around the corner from the office (which is in Charlotte Mews, and there's also a Charlotte Place – yes, it gets confusing). Here's the blurb:
It all starts with a girl . . . (because yes, there's always a girl . . .) Jason Priestley (not that one) has just seen her. They shared an incredible, brief, fleeting moment of deep possibility, somewhere halfway down Charlotte Street. And then, just like that, she was gone – accidentally leaving him holding her old-fashioned, disposable camera, chock full of undeveloped photos . . . And now Jason – ex-teacher, ex-boyfriend, part-time writer and reluctant hero – faces a dilemma. Should he try and track The Girl down? What if she's The One? But that would mean using the only clues he has, which lie untouched in this tatty disposable . . . It's funny how things can develop . . .
Slightly too many ellipses, but otherwise it sounds like a good read; the kind of whimsical boy-meets-girl story readers might fall in love with. I've confirmed that the Charlotte Street of the title is in London, so I'm assuming it must be the one very near to us here. It's always nice to read a book set in a place you know well – looks like London's Fitzrovia has yet another claim to literary fame!
Sara Magness, Editorial Administrator