I'm not what you'd call squeamish in the stereotypical sense of the word but when I think about to pain and permanence of tattoos I do a whole body shiver. And, as it happens, tattoos have been cropping up quite a bit this week.
Firstly, I'm currently reading Salt and Storm, and have just finished a chapter in which the sixteen-year-old heroine endures the inking of a powerful, magical tattoo with only the aid of a gulp of rum and the encouragement of an attractive, tattooed Pacific Islander boy.  I'm about halfway through and highly recommend it.
And then I spotted an article over on the Guardian about tattoos inspired by art and remembered that this was a topic that seemed to often come up when A&B authors visited us. What can I say? We cover some pretty diverse conversational ground when the juices begin to flow.
For example in the past, we've discussed with Kate Forsyth the librarians who have inked their favourite section of the Dewey Decimal System (MentalFloss compiles some of the best images together here). Then there was the boyfriend of the Morganville Vampires fan (note, he wasn't the fan) who demonstrated his adoration for his sweetheart by covering his back in a detailed design inspired by the series. And then Laurie R King pointed us towards the Mary Russell & Sherlock Holmes fan who went under the needle to have a feline-inspired portrait of the couple indelibly etched onto each thigh. Ouch.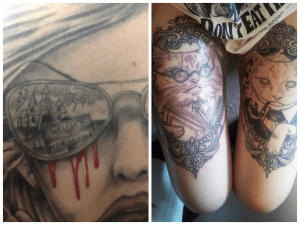 Is there a work of art you could see yourself cheerfully and permanently referencing on your body?
Lesley Crooks, Digital & Online Marketing Manager