Our tenner gets a literary revamp!
So, it's official – Jane Austen is to appear on the next £10 note. It's a shame she's replacing Darwin (can't they make room for him somewhere else?) but it's brilliant that we finally have a great woman writer on our cash.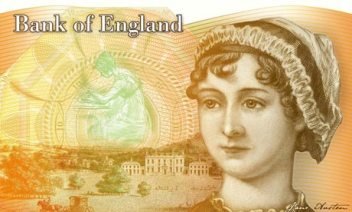 I'm not too sure about the design concept, though – it all looks a bit too orangey to me. And apparently the quote, 'I declare after all there is no enjoyment like reading!' is to feature. I think they could have gone for something a bit wittier and profound – Austen does after all have a good collection of quotable lines to her name. There's also the face that the line is spoken by Miss Bingley in Pride and Prejudice, who's only trying to suck up to Darcy by pretending she loves to read. Viewed in context, it does lose its worth a little…
What do you think – could you improve on the design? And who else should, in an ideal world, make an appearance on our money? It's interesting to see the famous faces that have been there before (take a look at the list here), and to speculate on who might make the cut in years to come. In a century's time, will famous authors of today be featuring on our money?
Sara Magness, Editorial Administrator