It's official: I am a Survivor
Last night, the rest of the A&B girls and I, sauntered off (yes, we sauntered) to the Riverside Studios in Hammersmith to attend the hit show How to Survive A Zombie Apocalypse – an interactive seminar on surviving the undead.
If you haven't seen this show – all I can say is G0. Go now. Because a) let's face it you really don't know when the zombies might rise. Could be tomorrow. And then what will you do?
And b) it's unlikely you'll have this much fun on a Thursday night.
Led by Dr Dale, founder of the School of Survival, and his three-strong team of "experts", the seminar included important explanations, effective demonstrations, questions from the floor, and quizzes which inevitably determined the "weaker" members of the audience who unfortunately had to die. (Cue some sympathetic "Awww"s from the remaining survivors…who were quickly reprimanded by Dr Dale for showing pity (fyi – a useless and indeed dangerous sentiment during a zombie apolcalypse. Take note.)
Everyone in the audience couldn't help but get in to the spirit of it all, and I really had to love the one bloke who put up is hand enthusiastically to ask: "Can I still pose a question if I'm dead?" Bless.)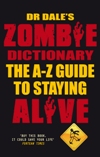 With pride, I will tell you that I survived. Oh yes. Although granted, I may have had an upper hand given that I had read Dr Dale's Zombie Dictionary: An A-Z Guide to Staying Alive (out 1 August), cover to cover, so have absorbed more zombie-survival knowledge than most. Proof that this book will indeed save your life.
A&B editor, Louise, sadly did not survive the evening. It's a hard truth, but at least I know who I won't be taking with me should the zombie apocalypse strike during working hours…
Chiara Priorelli, Publicity & Online Marketing Manager.
P.S Want to know more?
See where you can find Dr Dale next on the How to Survive A Zombie Apocalypse wesbite.
Listen to Dr Dale's podcasts
Read an extract from Dr Dale's Zombie Dictionary
Request for an alert for the book when it's out!