It's literary hashtag time again!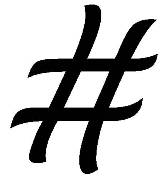 Literary-themed hashtags sweep Twitter on a seemingly regular basis at the moment.  For example, @Foyles runs an almost weekly literary hashtag competition and participation is high. Last week's chosen theme was #bookrailway and the entry, Now We Are Six Minutes Late, won for its 'realistic sense of exasperation'!
Whether it is driven by procrastination or to alleviate boredom, 'book games' provide entertainment for thousands of people. At the beginning of the year, #lessambitiousbooks took Twitter by storm (following in the wake of its popular 'sister' hashtag #lessambitiousmovies) which brought about inspired entries like To Seriously Injure a Mockingbird, Realistic Expectations, The Adequate Gatsby,A Tale of Two Villages,  Ordinary Mr Fox and Duke of the Flies.
Some of you may also remember the book product placement hashtag which polluted classic novels with brand names: The Lord of H. Samuel Rings, The Count of Monte Bisto and No Country Life Butter for Old Men. Whilst #bookswithalettermissing gave people the opportunity to change the meaning of famous book titles, just by the stroke of a delete key, with humorous results; Notes on a Sandal, The Collected Woks of William Shakespeare and O hello!. The latter title, a well-known tragedy, does not have quite the same gravitas as the original! Furthermore, mashing up book titles with bands – #bookband – led to such gems as the, Girl with the Pearl Jam Earring and Jane Aerosmith.
The secret to tweeting a successful hashtag? You need to target the right audience and Twitter's more literary corners are certainly doing that. Part of the fun for book lovers is recognising the novel itself (easier said than done sometimes!) and the chance to exhibit your cleverness, erudition and wit whilst boosting your literary credentials. Arguably, there is more than a little showing off involved!
Can you do better? Add them in the comments or join the fun and games on Twitter. And remember to follow us @AllisonandBusby.
Rebecca Kellaway, currently doing work experience at A&B