I am back from a fabulous week of skiing and snowboarding in the Dolomites. But it wasn't all about speeding down the slopes, hitting the Sella Ronda circuit and trying not to stack it on the way down the piste. There was also time to relax and enjoy the mountain setting…
I Was Here reading a proof copy of The Provence Cure for the Brokenhearted, by Bridget Asher (out June 2011) on our chalet terrace in Corvara, Italy. Not a bad place to enjoy a good book, eh?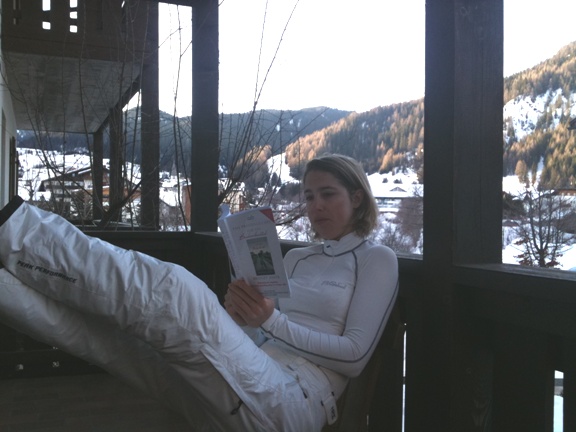 But where have YOU been reading our books? We'd love to know! Under your favourite tree? On the Gatwick Express? In a tent in Devon? In Kuala Lumpur? Let's see what weird, wonderful, and personal places you come up with!
Post a  I Was Here reading photo of yourself reading one of our books on the Allison & Busby Books Facebook Page (or send it to chiara@allisonandbusby.com and I'll post it for you). You'll inspire others and automatically enter into a monthly giveaway too!
Go on, get reading and snapping!
Chiara Priorelli, Publicity & Online Marketing Manager