Friday 1st October, 8.00pm     THE CANAL HOUSE, NOTTINGHAM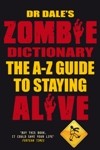 Enjoy a night of guaranteed laughs at this Nottingham Comedy Festival with the hit new show How to Survive a Zombie Apocalypse RELOADED. Dr Dale, founder of the School of Survival, will lead this hilarious interactive seminar at The Canal House, 48-52 Canal Street
Nottingham NG1 7EH. Will you be a combie survivor? For more information on the festival and to book tickets for the show click here.