History in the Court, Forsyth in the Building and Anderson in the Air
Last week finished on a high. On Thursday I had the pleasure of attending the annual History in the Court event which sees writers of historical fiction and non-fiction, literary agents, publishers and the reading public gather at Goldsboro Books in London to celebrate the historical genre over wine and canapés. It was a chance to catch up with the delightful D. E . Meredith, who gave up the chance to holiday in Alaska this summer in order to focus on her next book (proof that being an author is not all fun and games and involves plenty of hard work and sacrifice) and the always entertaining John Wilcox who has written a lovely (and deserved) tribute to David Headley of Goldsboro Books and the event on his own blog here.  The evening was also an occasion to award one talented new writer the annual Goldsboro Crown for best debut historical fiction (sponsored by Goldsboro Books) which this year went to M. L. Stedman for her novel The Light Between Oceans, whilst the HWA granted a Lifetime Achievement Award to Paul Doherty.
Then on Friday we all had the pleasure of having Kate Forsyth in the Allison & Busby office, who busied herself signing copies of The Wild Girl and Bitter Greens before relaxing for lunch with the A&B team.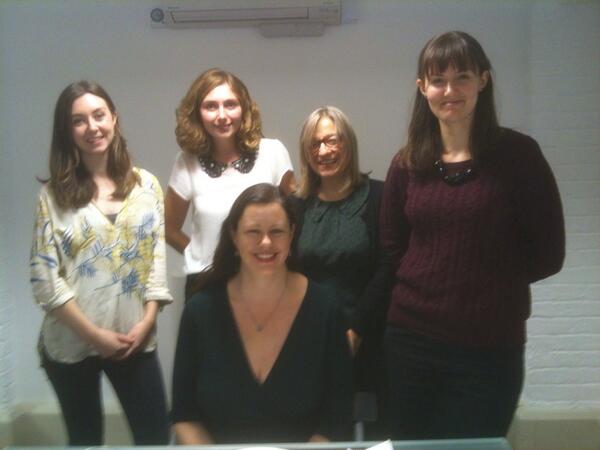 Conversation moved from the difference between Australian and UK covers, to the wonderful Aussie-government initiative Get Reading which picked The Wild Girl as a Book of the Month and saw Kate happily take on a grueling but great 6-week tour of Australia), to her doctorate in the retelling of fairy tales which Kate will be finishing shortly, to long-haul flights and whether we like them or not (I happen to love them). We also discovered that despite being a frequent flier and the owner of an ipad (kept in this wonderful Cath Kidson case which I now want to buy) she prefers reading actual books on a plane. And so we ladened her with a few more paperbacks from our shelves to tide her over on her flight to Sydney later that night. And she certainly didn't waste time tucking into the first book as we received the following tweet that evening:
@KateForsyth: @Allisonandbusby in lounge now, about to board. Reading 'The Affair of the Bloodstained Egg Cosy' by James Anderson – loving it! Fabulous
and a few hours later…
@KateForsyth:  In Dubai – I've finished 'The Affair of the Bloodstained Egg Cosy' by James Anderson & enjoyed it immensely – thank you @AllisonandBusby
Not only am I delighted that we (well, Anderson) kept Kate entertained for the first leg of her trip, but she successfully proved my earlier point about why I love long-haul flights. When else can you sit back and realistically start and finish a book in one sitting?
Chiara Priorelli, Publicity & Online Marketing Manager