Go window-shopping with Dr Dale in Edinburgh…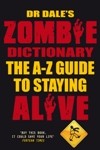 Wednesday 18th August, 2.00-3.00pm        BLACKWELL'S, EDINBURGH
If you're passing by Blackwell's (53-59 South Bridge, Edinburgh, EH1 1YS) don't be surprised to see zombie expert Dr Dale as part of the window display. Oh yes! This is your chance to meet the founder of the School of Survival, leader of the interactive seminar How to Survive a Zombie Apocalypse Reloaded (showing at the Edinburgh Fringe) and author of the new book Dr Dale's Zombie Dictionary.  Your can get a copy of the book signed… just watch out for the zombie next to him – he bites. For more information call the bookshop on 0131622 8222.