At the weekend I went to see a production of King Lear at The Globe performed in Belarusian. The Globe has been running a Globe to Globe festival all summer,  celebrating the international interpretations of Shakespeare, from a South African Venus & Adonis to an Indian Tempest. While so far, Venus & Adonis has been my favourite, this has come a close second. King Lear is younger than in most other versions. Lear is usually portrayed as an old, somewhat fragile man, but this Lear was energetic, passionate and turbulent.  And it didn't matter that it was performed in another language, the emotion transcended the barrier regardless.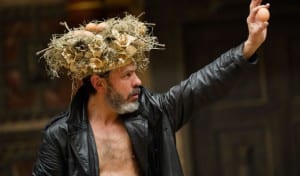 As I knew the story of King Lear beforehand I guess I had an advantage, but there were scene synopsis's at the side of the stage for those who needed help following. As the festival comes to an end, I can only wait with baited breath for next year's line up. I'm keeping my fingers crossed for Othello!
What would you like to see at the festival next year?
Sophie Robinson, Editorial Administrator