Friday night – just as I like it
I like surprises, which is just as well as last Friday I was treated to two. Firstly a friend wasn't well enough to use her tickets to see As You Like It at the Globe so I was the lucky one making use of them, peering down from the Gods. I've been well and truly spoiled and may have trouble going as a groundling in future.
The second, very pleasant surprise was where I ended up for a not-so-quick pre-show drink. I walked into Citizen M Bankside and thought I was in my ideal library. That, of course, is a compliment of the highest order. The slick self check-in/out kiosks looked very similar to the machines I check out my library books in Essex. And a pace beyond that was a pop-up book shop run with Mendo.nl.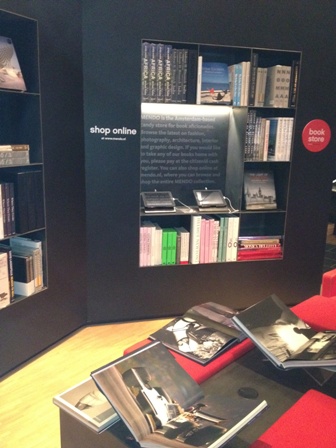 You can browse this 'satellite' store of the Amsterdam-based booksellers for delivery when you're back home or pick up something you fancy and pay now at the desk. The selection, considering we were just around the corner from the Tate Modern, understandably was weighted towards art and design books. All very covetable.
To put the paragraph above in context, I'd taken four or five steps into Citizen M at this stage, and I liked what I had seen in that short space of time. Moving into the lobby, sorry – living room, there was shelving everywhere with an envy-inducing array of coffee table tomes and Penguin Classics. When we arrived there were still a few busy souls tapping away thanks to the free wifi and iMacs available, which along with the bar, contributed to the atmosphere of world's best common room.
All in all, this was a very welcome change for someone who gets excited if there is even a handful of battered paperbacks when I stay at a hotel. Bibliophiles take note.
Lesley-Anne Crooks, Sales & Digital Manager