Foggy Tuesday (time for a free trip to Paris!)
I think we've seen the last of the fireworks (a brilliant display nearby our offices last night which we watched out of our skylight) and the end of the mild weather is now official. But before we descend into blueness and think hibernation is our only option, consider this little special which is sure to keep your spirits up…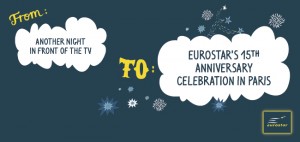 Eurostar is celebrating its 15 year anniversary (can you believe it? 15 years already!) with VIP tickets to its champagne party this Saturday,  weekend tickets to Paris and a host of other goodies up for grabs. Click here to enter the competition.
I love the Eurostar – no ridiculously long check-in times and no bumpy landings. Bliss.
Good luck with the competition!
Lara Crisp, Managing Editor