Feeling the heat with Hotel on the Corner of Bitter and Sweet!
We've already been enjoying the fact that Hotel on the Corner of BItter and Sweet, by Jamie Ford has climbed to the #2 spot on the Small Publishers Bestsellers List this week, but have just now seen (causing a combined squeal from the all of us in the office) that Hotel has hit the Heatseekers chart too – currently sitting at #14! There it is, just below the film tie-in of Extremely Loud and Incredibly Close, and above former Poet Laureate, Andrew Motion – so in very good company!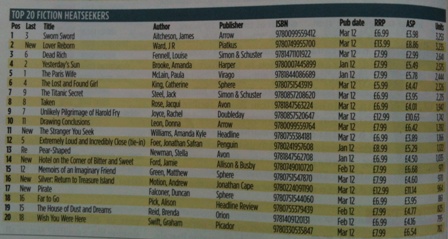 This chart is exclusive to The Bookseller and features the top-selling and most visible Bformat paperbacks. We've always wondered what it took to get on this chart as we've had many books reach the heights of bestsellers lists, yet never made it onto the Heatseekers chart. So we can officially tick that box off now, are incredibly thrilled, and may this be the beginning of many more Heatseeking books to come!
What a great way to end the working week…
Chiara Priorelli, Publicity & Online Marketing Manager