Favourite things from the London Book Fair
It's Friday, and we're winding down from the buzz of the London Book Fair earlier this week. I spent one day at the big event and noted an unsurprisingly huge increase in the size of the Digital section, the absence of the Cookery Corner (a regular LBF space which used to hold cookery demos to promote new cookbooks), and discovered (on my way to a seminar room) the Dark  Side to the fair, aka the Rights Floor. Hidden away above the colourful stands downstairs, the Rights Floor looks like you've stumbled into a massive exam room…rows and rows of monochrome desks and cubicles where Rights people spend hour upon hour, going through their catalogues on a loop of back-to-back meetings, and (so I'm told) surviving on caffeine and throat lozenges. It certainly looked pretty hard-core.
Since I'm not in Sales or Rights, I always get a much easier ride, spending most of the time in seminars, perusing the stands, having a few meetings and putting faces to people I've only met over email. So here are a few of my favourite things from LBF2013…
1. The A&B stand which looked particularly great this year with our fabulous big canvas images and a plenty of double-samplers of Bitter Greens and The Wild Girl plus The Whole World and The Start of Everything (which went down a treat).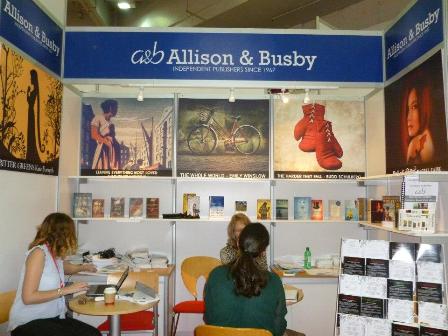 2. Loved too, the themed-images on the New Holland Publishers stand, marking their shelves of displayed books by genre.
3. A very good talk by YA bloggers Jo Stapley at Once Upon a Bookcase and Casey Davoren from Dark Readers. Not only was it lovely to hear them voice their genuine enthusiasm for books but was good to see the LBF recognising the blogging community.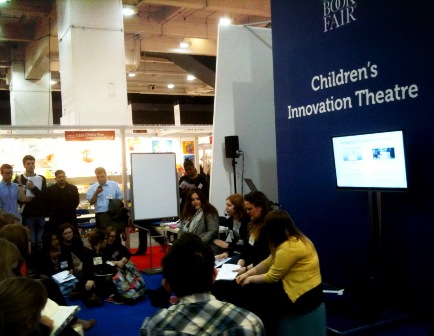 4. The discovery of Pereine Press who publishes European novellas in translation. I adored their unique and rather beautiful newspaper-style catalogue.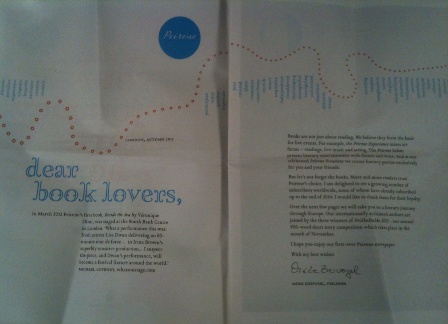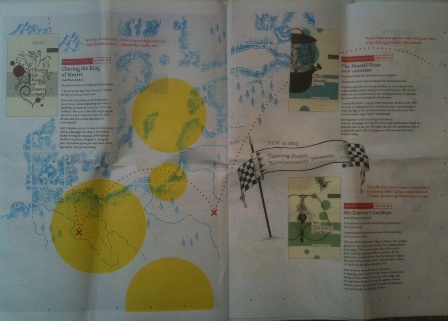 5. Gone are the days when you'd come away from the fair with a bag of free books. Now it's not even that easy to take away a catalogue (we're being enticed by bowls of free gummy bears instead  – much more cost-effective…) However, I managed to come away with a lovely high-spec proof (the super-matt cover feels like rubber and I can't stop touching it) of The Returned, by James Mott, generously being offered at the Harlequin stand. Have already started reading it and am hooked. So, thank you Harlequin.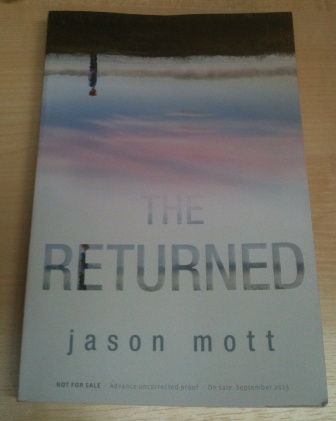 Another year, another London Book Fair. See you at the next one!
Chiara Priorelli, Publicity & Online Marketing Manager