Edward Marston at Wellington Literary Festival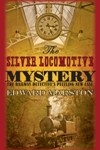 Wednesday 21 October, 7pm WELLINGTON
Come and meet historical crime-writer, Edward Marston – author of the hugely popular Railway Detective series. He will be talking about 'Crime on the Railways'at the Civic Centre as part of the Wellington Literary Festival in Shropshire. For more information call 01952 382382 or visit the festival website here.