Every now and again a book appears that everyone is raving about; the critics love it, readers can't recommend it enough. But sometimes I find it almost puts me off – what if I don't like it? Am I then somehow wrong in my judgement? For example, The Deaths by Mark Lawson, eventually fell a bit flat for me – despite everyone else's adoration for the book.
I decided to ignore my usual misgivings about these hyped-up books and buy Everything I Never Told You by Celeste Ng. It was named Amazon's book of 2014. Quite an accomplishment for a debut novel.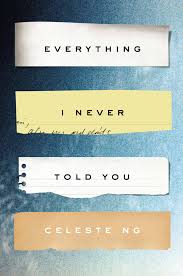 Since reading that first page in the bookshop, I haven't wanted to stop. It's not just the excitement of the mystery that grabbed me, but the achingly elegant prose and acute attention to little details – like a single stray novelty sock on the floor of a teenager's room.
I should listen to the reading masses for often; they know what they're talking about.
Sophie, Editorial Exec.