"London has the trick of making its past, its long indelible past, always a part of its present …   It is all there in the streets. It is all there in the books."
Anna Quindlen, Imagined London: A Tour of the World's Greatest Fictional City
I can hear my father's voice telling me: 'See that dark shadowy place? That is east London. Never go there.' What horrors I envisaged! But my friend Alex swore that 'it's really nothing like our parents remember'. And so, this Saturday, I found myself content to be led to a rather lovely little area not so different from west London. Or north London. Or really anywhere London. I ended up in Hackney. I was promised books, coffee and cocktails, so I was excited. It was adventure time.
Hackney, of course, is well known for the increasingly popular Broadway Market. A kaleidoscope of colours, tastes and people fill the street. Food stalls sit wafting temptation into the faces of passersby. Climpson's Coffee Shop sets up a sunny perch in the street. Stands dot the market with eccentric, multicoloured shawls and shirts and jackets and jumpers. Behind the market, the shops are open. There's the Broadway Bookshop on the corner of NE 17th Street, doors open and second-hand bargains beckoning. The pubs and bars are crawling with creative professionals in lived-in coats they purchased yesterday. Chairman Meow watches the world pass by Off Broadway with familiar ennui, ignoring the hands that try to pet him and disdaining those that would try to move him from his warm seat in the window.
It's also known for its hip fashionistas, the 'taches that put Movemberists to shame and the skinny-legged, rayban elite. It's E8's answer to Nottinghill. But better because the tourists haven't found it yet. And the kids who had their end-of-the-Met-line parents scare the bejeezus out of them with talk of East London swanks are still too nervous to put paw to the Hackney pavements by themselves. There's always the critics (because really who ever thought that those who frequented it in the 80s would be breeding quirky babies so soon and bringing all their buggies onto Broadway to mingle with the new generation's Dutch bikes) but let's not dwell on them.  Instead, here's my 'big find' (already discovered circa 2010): Climpson's Arch.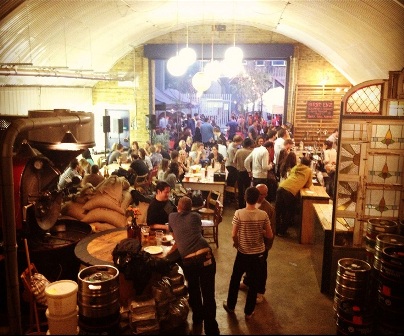 A little of the beat and track at 374, Helmsey Place is a pop-up summer venue that's trying to stay open for the winter. It's a multipurpose, multicultural bonanza. Run by Australians with an eclectic London clientele, this cousin to the Climpson's on Broadway is literally an adapted railway arch. Throughout the weekend it adapts – from brunch menus and their fabulous telltale coffee, to the roastery lunch and British brewed ciders and beers, into the evening with a wide selection of cocktails and wines. On Thursdays and Fridays it opens around 5pm til late and acts as both a meeting spot and open air party venue.
Simple but chic, friendly and vibrant – Climpson's Arch is definitely worth a visit. Especially as it may be going into hibernation soon.
Harriet Allner, currently doing work experience at A&B