CRIMEFEST: Panel with Rebecca Tope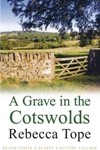 Friday 20th May, 9.00am-9.50am CRIMEFEST: BRISTOL MARRIOTT ROYAL HOTEL
Rebecca Tope, bestselling author of the Cotswold mystery series including the latest release A Grave in the Cotswolds, joins Suzette Hill, Lynn Shepherd and Roz Southey on a panel entitled: Father Goose – Unusual Job For A Sleuth. Moderated by Christine Pulson. For more info visit CrimeFest.