CRIMEFEST: Panel with Adrian Magson & Martin Edwards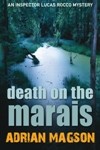 Thursday 19th May, 4.50pm–5.40pm  CRIMEFEST: BRISTOL MARRIOTT ROYAL HOTEL
Adrian Magson, author of Death on the Marais, joins Peter Guttridge, Sarah Rayne and Caroline Todd on a panel entitled: In Name Only – Forgotten Authors. Moderated by fellow A&B author Martin Edwards. For a full programme visit Crimefest.