CRIMEFEST 2012: Panel with Zoe Sharp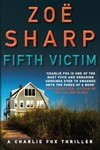 Friday 25th May, 11.20am-12.10pm CRIMEFEST: BRISTOL MARRIOTT ROYAL HOTEL
Zoe Sharp, author of thriller titles, including: Fifth Victim and Fourth Day, joins Gerard O'Donovan, James Sallis and Andrew Taylor on a panel entitled: 'Law or Justice?: How Does your Protagonist Choose?', with participating moderator Michael Stanley (Stanley Trollip). For more info visit Crimefest.