CRIMEFEST 2012: Cath Staincliffe moderating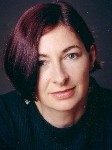 Friday 25th May, 9.00am-9.50am CRIMEFEST: BRISTOL MARRIOTT ROYAL HOTEL
Cath Staincliffe, author of Bitter Blue and Missing, and scriptwriter and creator of ITV's Blue Murder, will be moderating a panel entitled: 'Stretching the Boundaries: Taking Crime in Different Directions'. She will be joined by Jane Casey, Dan James, Linda Stratmann and Tim Weaver. For more info visit Crimefest.