I've just been working on  what will be A&B's new edition of  Love & Death: The Murder of Kurt Cobain, by Max Wallace and Ian Halperin (out March 2014) which is an investigation into the suicide of the rock legend. The two investigative journalists believe he was murdered and set out to prove it with a series of interviews, tapes and compelling new evidence.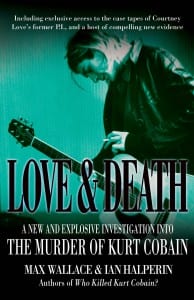 I remember reading the Charles Cross biography of Kurt Cobain in 2002 so I was immediately intrigued. And whether you believe them or not, I think everyone likes to read a good conspiracy theory. Everything from Global Warming being a hoax to The Clinton Body Count, these topics always seem to catch people's attention. Case in point, I think I'll be first in line to get my hand's of the new Love & Death edition!
Are there any conspiracy theories you're interested in?
Sophie Robinson, Editorial Administrator