Christmas lights in London tonight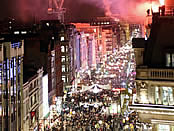 Our offices are just a few minutes walk from Oxford Circus – where they'll be turning on the Christmas lights tonight with the usual fanfare including street performances. And although I'm dreading the tube journey home (despite the rain there are always thousands of people flocking to these things), I'm secretly a real Christmas nut and love all the fuss and tinsel and craziness of December festivities.  But even so, at the best of times the chaos of Oxford Street is just too much for me so you'll find me at home, curled up on the sofa, watching the lights on the news.
And if you're a fan of Jim Carrey, Colin Firth or Bob Hoskins, don't miss out on the fact that they are the ones switching on the lights this year. They'll be at Oxford Circus, Regent Street and St Paul's respectively (click here for more info) and of course plugging their new film A Christmas Carol which hits cinemas this Friday 6 November. Sounds like a perfect one for the kids…
Send us pics from the evening if you go!
Lara Crisp, Managing Editor