Wednesday Cover Story: Can book covers be offensive?
Often on this blog we showcase some of the book covers we love, whether they're our own designs or have simply caught our eye in a book store. This week, I'm afraid, the book cover occupying my mind is one I personally dislike – and it seems I'm not alone. The recent reissue of Sylvia Plath's The Bell Jar has caused some pretty big controversy – see for example the great quotes in this article from The Guardian. Perhaps you can see why it's caused such a stir.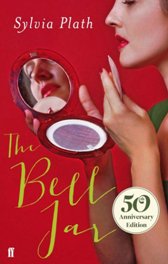 Aside from the fact that the cover completely trivialises the book's content by making it look like chick-lit (when in fact the book is about, amongst other things, serious mental illness and the marginalisation of women), it's also just, in my opinion, a bit hideous. I mean, if you're going to flaunt a sexist stereotype on the cover of a novel written by one of the twentieth century's most crucial feminist writers, then at least find a nice vintage image or something.
Ok, I might be a bit biased – anyone who read my previous post on Plath will know that I'm a big fan of hers, so perhaps I find it harder to see the merits of packaging the book in such a commercial way. But I think this might be a step too far. Then again, the whole debacle has in the end generated some fun – check out these brilliant parodies of the Bell Jar cover. I think a Twitter trend has begun…
What are your thoughts, and are there any other book covers out there which make you laugh and/or cringe?
Sara Magness, Editorial Administrator