Bring Maine into your kitchen
After six days Maine, I have finally enjoyed my first taste of the local Clam Chowder. Together with the local lobster, this is a must-have dish up here. So, in an attempt to have you share in this culinary delight, here's the traditional New England recipe for it.
CLAM CHOWDER RECIPE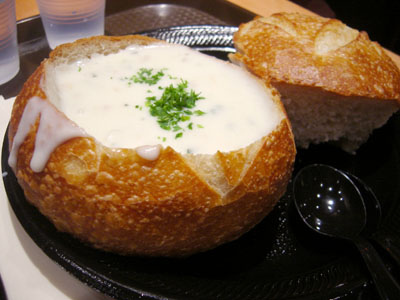 Ingredients
5 cups bottled/canned clam juice
1 cup of flour
1 cup onion, finely diced
10 slices of cooked bacon, chopped
2 tablespoons margarine
8 oz. of cooked clams, chopped
4 medium potatoes, cooked and cut in bite sized chunks
1/2 cup milk
1/2 cup light cream
1 teaspoon salt
freshly ground black pepper
Method
Heat the clam juice in a large saucepan on medium heat. In a separate pan, melt margarine and sauté the diced onions until they appear translucent. Add bacon and flour to the melted margarine and stir continuously for 5 minutes. Increase heat on clam juice to medium-high, and, with a wire whisk, add flour, margarine and onion mixture to the liquid. Stir constantly, breaking up any lumps that form. Add clams and stir. Add potato chunks, milk, cream and salt, and continue stirring. Decrease heat to medium-low, and allow chowder to simmer for about 20 minutes, stirring frequently to avoid burning or sticking.
Serve clam chowder hot with freshly ground black pepper to taste, with crackers or (if you really want to impress) in a hollow sourdough bread loaf (as pictured).
Chiara Priorelli, Publicity & Online Marketing Manager (reporting from Maine)