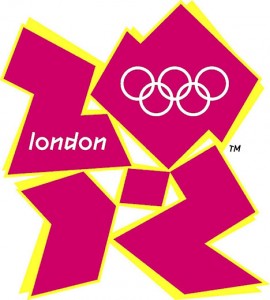 It's certainly no surprise that there are plenty of new book releases jumping on the Olympic bandwagon. Commemorative photography books, books on inspirational athlete stories… there's bound to be a new Usain Bolt book coming out soon (a quick Google and low and behold – yes, the paperback release of his autobiography Usain Bolt: The Fastest Man Alive will be out in August).
Carlton Books has released some children's titles – London 2012 Games Activity Handbook and The London 2012 Sticker Colouring Book which are actually good ideas considering the kids will need something to do whilst their parents are glued to TV, and will help them get into the spirit of things. But I'm not that convinced about their Get Fit for the Games title. Why exactly? You're not actually going to be the one going for gold in the high jump are you? No. You will be the one sitting your derrière comfortably in the spectator seat. But granted, the Olympic spirit may indeed suddenly spark a sudden desire to unleash your hidden athletism – and actually, there may be something to it. With an estimated extra million people visiting the capital next year you may very well need to get very fit in order to: a) sprint out of work in order to make it in time to the evening event you've miraculously got tickets for, b) jump over people or lift them out of the way in order to get through the heaving crowds trying to get on to the tubes heading to the Olympic Village, and c) manically jump up and down in excitement when someone other than America, Australia, China or Russia actually wins.
Now all I have to see is if we'll get some Olympic-themed cookery books too. Or have I just stumbled upon a new idea? I'm seeing pages of recipes called Butterfly 400m Soup (farfalle pasta in meat broth), Javelin Stirfry (picture to feature chopsticks sticking out of bowl), or Olympic Rings (fried calamari dish). Why not? I've seen stranger things sell.
And if someone runs with this, I expect a commission…
Chiara Priorelli, Publicity & Online Marketing Manager