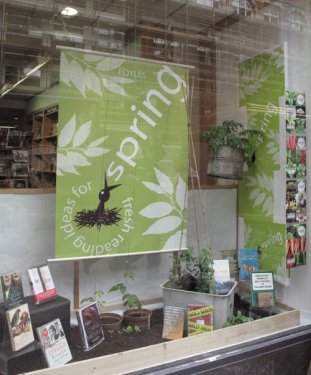 Proof that you don't need a sprawling garden or allotment in order to grow your own veg, Foyles bookshop on Charing Cross Road has started its very own 'Urban Garden' window. Boasting peas, radishes, lettuce and tomatoes, it's an inspiration to city dwellers and shows you don't need acres of space to grow your own. The shop intends selling the produce in Foyles very own café. The window has been declared the winner for April in the Edible Green Corners category and is now eligible for the overall winners' award, to be announced early in 2011. Go to the Foyles Facebook Page for more details.
I'm off to have peek over lunchtime.
Lara Crisp, Managing Editor
P.S. If you're looking for recipe ideas with all your home-grown goods, have a look at the very aptly named The Lazy Cook's Family Favourites.