Book Signing: Rachel Caine in Brent Cross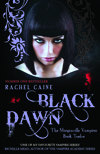 Sunday 6 May, 12.00-2.00pm   WHSMITH, BRENT CROSS
Come and meet Rachel Caine, author of the international bestselling Morganville vampire series. Rachel will be signing copies of book twelve, Black Dawn, at WHSmith, Brent Cross Shopping Centre, London NW4 3FB. For more information contact the bookshop on 020 8202 4226.