Book Signing: Rachel Caine in Brighton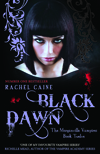 Monday 21 May, 4.00pm WHSMITH, BRIGHTON
Come and meet Rachel Caine, author of the international bestselling Morganville vampire series. Rachel will be signing copies of her hotly anticipated twelfth instalment, Black Dawn, at WHSmith, 2-3 Churchill Square, Brighton BN1 2TA. For more information contact the bookshop on 01273 324 146.