Book Launch: Sangeeta Bhargava in Harrow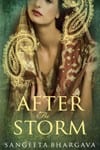 Saturday 14 July, 6.15pm – 8.15pm    WATERSTONES, HARROW
Come and celebrate with Sangeeta Bhargava as she launches her new book After the Storm, a moving historical love story set in India. Mingle with the author and enjoy some wine and nibbles at Waterstones, 60-62 St. Ann's Road, Town Centre, Harrow HA1 1JX. For more information call the bookshop on 020 8863 4578.