Book Launch: Dr Dale's Zombie Dictionary in Lancaster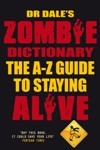 Monday 2nd Aug, 1.30pm         LANCASTER GRAND THEATRE
Join Dr Dale and his team as they celebrate the launch of the new book Dr Dale's Zombie Dictionary: The A-Z Guide to Staying Alive with an afternoon of zombie-antics and a taste of the new show How to Survive a Zombie Apocalypse Reloaded at the Lancaster Grand Theatre, St Leonards Gate, Lancaster LA1 1NL (Tel 01624 64695). A hilarious and indispensable guide to surviving the rise of the undead – test your innate skills and come celebrate the fact that you will be one of the few to know how to handle a zombie attack! (If you buy the book of course…) Free tickets to the launch available through BBC Radio Lancaster here or call the venue on 01624 64695.