Authors make for good travel agents…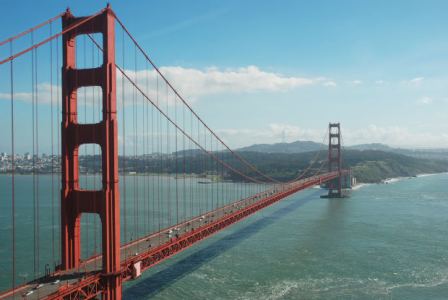 I'm heading off to San Francisco tomorrow morning (I know, lucky me) and whilst this holiday has been in the pipeline for some time, what with the excitement of the Fall of Night Book Tour which has seen me travelling around the country with Rachel Caine (author of the Morganville Vampires series) this San Fran trip has snuck up on me.
I do know I'll be having breakfast at Mama's, trying to book a table at the famed Chez Panisse restaurant (which hopefully will reopen while I'm there after a recent fire) and staying at a lovely B&B in Napa Valley, Hennessey House, which boasts a gourmet breakfast, complimentary afternoon tea and a wine and cheese tasting session in the evening.  You can clearly see where my priorities lie.
But as for preparing for the rest of the trip… luckily, I've been able to turn to our own A&B authors for help!
Jacqueline Winslear (author of the Maisie Dobbs mystery series) told me what to pack. She lives in Marin County, just over the Golden Gate Bridge and has confirmed that summer does exist in other parts of the globe. I can confidently put away my puffa coat and pack my sandals.
Rachel Caine recommended a hotel.  She said I should at least visit, or indeed stay at, the Queen Anne Hotel, which apparently is beautiful and one of the few examples of original buildings in San Francisco from the turn of the century.
Michael Bond (creator of Paddington Bear and the author of the Monsieur Pamplemousse series) sorted out a gift for my cousin who I will be visiting. He did me the great honour of signing a copy of The Paddington Bear Treasury for the Very Young for her little daughter.  (Yes, there are certainly wonderfully special perks to working in publishing).
And Laurie R King (author of the Mary Russell & Sherlock Holmes series) is acting as my city-guide. Her website features useful links about San Francisco, where her other Kate Martinelli series, is set. It even includes Laurie's  own audio tour of the city!
They're a useful bunch our authors, and not just because they write wonderful books!
Chiara Priorelli, Publicity & Online Marketing Manager