Are You a Little Miss Wise or a Mr Perfect?
To celebrate the 45th anniversary of the Mr Men and Little Miss books, four brand new characters have been created by Adam Hargreaves, son of original author Roger Hargreaves, who created the series back in 1971.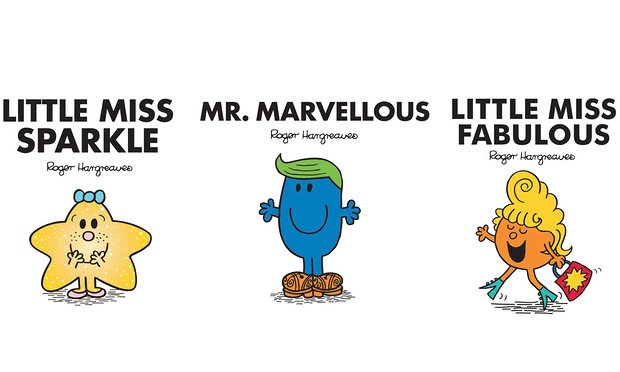 As children, my brother and I were obsessed with this collection and constantly argued about which characters were the best; I always favoured Little Miss Dotty as she had polka dot wallpaper. The four new characters joining 'Misterland' are Little Miss Fabulous, Little Miss Sparkle, Mr Marvellous, and Mr Adventure (had these been published 15 years ago, Mr Adventure would have been my brother's favourite for sure!)
However, these new characters have received criticism from campaign groups, particularly 'Let Toys Be Toys', who claimed they had a 'general unimpressedness' for the reinforcement of gender stereotypes. Mr Adventure goes swimming with dolphins and put out fires, while Little Miss Fabulous boasts about her new hairdo. It's not difficult to see why these characters are facing a backlash; this outdated idea that boys do stuff while girls stand there and look pretty is not acceptable in 2016.
Many of the original characters can also be seen to reinforce gender stereotypes. The Little Miss series has titles such as 'Little Miss Helpful' and 'Little Miss Neat', yet the Mr Men are 'Brave' and 'Strong'. Although they were created over forty years ago, and perhaps some allowances can be made for these out-of-date attitudes, a modern day children's author should strive to confront these ideologies, not endorse them.
The series was originally created by Roger Hargreaves when eight year old Adam wanted to know what a tickle looked like. Mr Tickle was born, and went on to sell a million copies in the first three years. A loving father's simple idea soon became a worldwide phenomenon, and after 45 years, it's clear that these colourful creations are still as well loved today as they were in the 1970s.

The Guardian reports that as part of the anniversary, five existing Mr Men and Little Misses have been redesigned to map social trends over the last five decades – say hello to Mr Grumpy the 1970s punk rocker all the way up to Little Miss Fabulous the Vlogger for the current era. Interestingly these will not be released as books.
Laura Angell, currently doing work experience at A&B