April 23rd: A Great Night for Books
What do Cervantes, Shakespeare and Catalonian lovers have in common? It's all to do with today's date- the 23rd April. The Shakespeare lovers amongst you might have already spotted that it is both the Bard's birth and his death day today (and the 450th anniversary of his birth!)- but did you know that it's also the date upon which the great Spanish novelist Cervantes died (in 1616 – the same year as Shakespeare)?
And speaking of sunnier climes, we're enjoying anything Catalonian in the A&B office at the moment, as we celebrate the release of Daughter of Catalonia this month. So what about this for a literary tradition: April 23 marks the city of Barcelona's celebration of St George's Day. St George is the patron saint of Catalonia as well as England. Traditionally, to celebrate this day, Spanish gentlemen gave their ladies roses and the ladies returned the favour with a book.
Well, why should the Spanish have all of the fun, we say? And indeed, campaigners over at The Reading Agency (a charity with a mission to give everyone an equal chance to become a reader) agree. World Book Night is an annual celebration of reading and books which takes place on 23 April. It sees passionate volunteers give hundreds of thousands of books away in their communities to share their love of reading with people who, for whatever reason, don't usually read for pleasure or own books.

And we're pleased to report that A&B authors are taking part around the country – head over to our News and Events page to find details of Emily Winslow and Zoe Sharp's appearances this evening.
A very happy World Book Night to you all!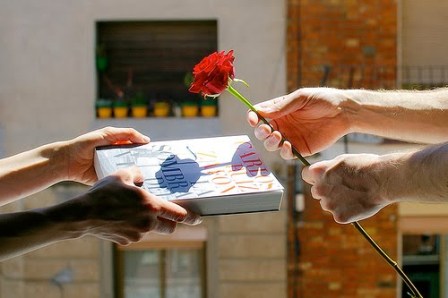 Kathryn, Publishing Assistant