We seem to have had a pretty good year for publishing. Despite the tricky times on the high street, 2012 saw positive growth in both digital and print markets, and it wasn't all EL James making a splash. Hilary Mantell's critically lauded Bring up the Bodies has now attained incredible popular reach currently sitting at #1 in the charts. And, closer to home, a week meeting just a tiny number of Rachel Caine's immensely enthusiastic fans, has also put me in a good old mood.

On Monday night I was lucky to be invited by our distribution friends at Turnaround to go to the Bookseller Industry Awards. Frock donned and sporting heels that kindly decided not to give me any jip, I tripped off to the Hilton Park Lane to join in the general sense of congratulation.
And while I tried to work out who was doing the category announcements (the voice of the National Lottery, I eventually realised), there were some heartening success stories. Foyles snatched the National Bookseller of the Year gong for the second year running. The future of bookselling seems to be in hale and hearty condition if the contenders for the Sue Butterworth Young Bookseller award are anything to go by. And while the libraries sector faces challenge upon challenge, the quality among those shortlisted for Library of the Year title was so strong that the Devon and Dundee services were joint winners.
And to round the night off nicely, my on-going quest for an early Books Are My Bag tote bag was finally successful!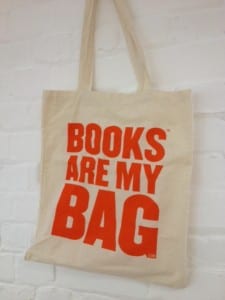 Lesley Crooks, Sales & Digital Manager