Alanna Knight at Reader's Day in Irvine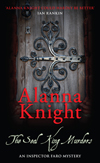 Saturday 27th October,  9.30am-3.30pm    WELLWOOD, IRVINE
A chance for readers to meet and share their love of reading. Four talented authors, Alanna Knight (author of the acclaimed Inspector Faro and Rose McQuinn series), Maggie Craig, James Robertson and Sara Sheridan will be leading various book group sessions at a Reader's Day in Wellwood, 28 Eglinton Street, Irvine KA12 8AS.  They will discussing books that they love as well as one of their own books (Alanna will be talking about The Seal King Murders). For more information and to book tickets (£8.50 and includes lunch) visit any North Ayrshire library or call 01294 212716.