A shelf of a very familiar taste in books
It doesn't take much to guess which part of the world I was lucky enough to spend a few days in last week . . .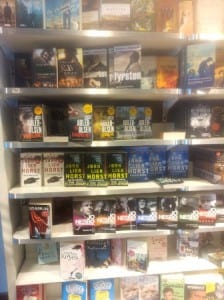 Yes, Jo Nesbo and Jorn Lier Horst dominate the bestseller shelves in their homeland Norway with a shelf to spare for Danish author Jussi Alder-Olsen too.
Locally-based crime fiction and thrillers are hugely popular in Norway – something we understand all too well at A&B with our fantastic list of local UK crime authors. I was pleased to see some British names sitting prominent too: Sophie Kinsella, Jill Mansel and James Bowen.
Lydia Riddle, Editor