The numbers of Kindles on my route to work has burgeoned since the Christmas holidays. Quelle surprise, you may rightly say, but what threw this into focus this week was a wonderful surprise gift: a first edition of Jonathan Strange & Mr Norrell signed both by the author Susanna Clarke and the illustrator Portia Rosenberg.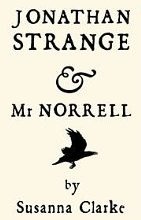 I love this book and have some very fond memories attached to it, although its size means I've never quite found the right opportunity to reread it. Handbag friendly it cannot be classed. So while the idea of a compact digital edition seems perfectly suited in this case, I have been won over by the idea of this particular book, this tangible object, having a history. It really appeals to me that, covering goodness knows how many miles, it 'returned' to the author and then found its way onto my bookshelf. Is that what the appeal of signed editions is all about, the romance of a connection with the author, narrowing the gap between speaker and listener? I assume so.
So, the Sales and Digital Manager who loves the convenience of digital reading, would like us to take a moment to remember that books can, and often should, be more than a reading experience but also prized possessions.
What books on your shelf would you not part with for the world?
Lesley-Anne Crooks, Sales & Digital Manager