A Night with Romantic Writers in Reading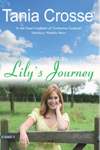 Wednesday 2 June, 7pm READING CENTRAL LIBRARY
Enjoy an evening with romantic writers Tania Crosse (author of Lily's Journey), Julie Cohen, Beth Elliott, Janet Gover and Rau-Anne Lutener at Reading Central Library, Abbey Square, Reading RG1 3BQ. The authors tell you all there is to know about romantic fiction – from Mills & Boon and Regency romances to writing a sex scene!
Tickets £3 (£2 for library members). Collect your tickets at the library or call on 0118 901 5950.