My sister used the word 'caboose' yesterday. The conversation went something like this:
Sister: "I had a dream last night where I was in the caboose of a train and -"
Me: 'I'm sorry…a caboose??'
Sister: 'Yes, a caboose'
Me: "A caboose. What era are you from?? "Sorry I'm late, terrible commute in – the platform was so packed I couldn't get on the caboose…?"
Sister: "Oh shut up – the carriage – you know what I mean."
Fact is, it's not every day you hear the word 'caboose' used in a sentence. The official Oxford Dictionary definition is in fact 'the guard's van on a freight train' which explains why it's unlikely to come up often in conversation if used correctly.
It's a shame really, it's such a great sounding word. I think we should bring it back into fashion. Give it a new meaning – something more inspiring than a train carriage. I'm thinking the following:
Caboose n. a glamorous hat, usually involving feathers.
Caboose n. extreme mess or muddle. eg. He surveyed the room which looked like a tornado had hit it. 'What a caboose!' he exclaimed.
I know! Give us your suggestion for a new meaning for the word 'caboose' and we'll give away a set of Edward Marston's Railway Detective series to the best entry! Click here to enter.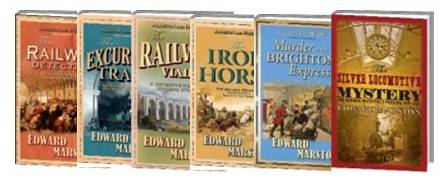 Chiara Priorelli, Publicity Manager