In our weekly meeting debating hyphens and curly apostrophes, I'm afraid to admit I switched off for a minute and daydreamed about the proofreading 'effort' required for this book: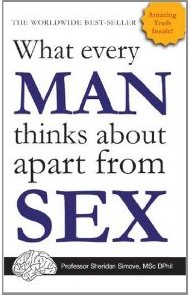 Currently outselling Dan Brown's Da Vince Code and JK Rowling's Order of the Phoenix (admittedly neither book are exactly at their peak at the moment), What Every Man Thinks About Besides Sex retails at £5.99 – £5.99 I might add for a book of blank pages.
Amazon has gone out of its way to make it clear that not a word is printed inside but I can't help but wondering: who spends £5.99 on a blank book? I guess I'll have to ask the thirteen people who have given it a 5 star review. Bizarre.
Lara Crisp, Managing Editor