ZOMBIE SHOW + BOOK SIGNING – HAMMERSMITH, LONDON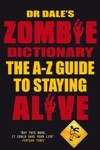 Saturday 23rd October, 8.00pm    RIVERSIDE STUDIOS, LONDON
Would you know how to survive the rising of the undead? Catch Dr Dale (author of Dr Dale's Zombie Dictionary) and his team of experts, on their autumn tour of How to Survive a Zombie Apocalypse RELOADED – the brilliant award-winning spoof seminar (a mix of  sketches, improvisation and audience question and answers) at RIverside Studios, Crisp Road, Hammersmith, London, W6 9RL.  You'll also get the chance to buy Dr Dale's book and get it signed after the show! To book tickets phone the venue on 0208 237 1111. A hilarious and interactive night out – don't miss it!