Zoë Sharp speaking at Sheffield's Off the Shelf festival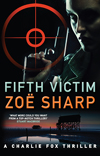 Wednesday 7th November, 11.00am    CENTRAL LIBRARY, SHEFFIELD
Come and meet Zoë Sharp at Sheffield's Off the Shelf book festival as she talks about her unconventional route into writing, (she opted out of mainstream education at age twelve and wrote her first novel when she was fifteen) and the creation of her best-selling Charlie Fox series. She will be speaking at the Central Library, Surrey Street, Sheffield S1 1XZ. For more information call the library on 0114 273 4727 or visit the festival website.