Writing What You Know – a guest post by Susanna Bavin
We're delighted to welcome to the blog author Susanna Bavin, whose debut saga novel The Deserter's Daughter is released this week!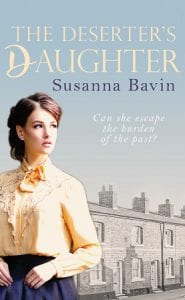 Researching family history can cause weird feelings. Not long ago, I found a discussion about my great-great-grandmother Charlotte on an online message-board. It was wonderful – I found out one or two things that were new to me; but my over-riding feeling was not satisfaction at what I had learned or frustration not to have found out more, but a sense of strangeness. All those people who had left information were Charlotte's descendants, which meant that they were, however distantly, related to me. Like I say: weird.
But my overriding feeling regarding family history lies in a strong sense of place. I grew up in Chorlton-cum-Hardy on the south side of Manchester, on the border with Cheshire. At least five generations of my family have grown up there, while other ancestors, including Charlotte, lived within a few miles. If you were to meet me outside the house in which I grew up, I could take you on a walk to show you the house where Dad was born and the house his family moved into a few years after; two houses Grandad lived in during his later life; Gran's house; and my great-grandmother's house… and the walk from beginning to end would take less than twenty minutes.
Perhaps that makes it sound inevitable that I should have set my saga, The Deserter's Daughter, in Chorlton, but the thing that really triggered my setting it there was my father's maps. Towards the end of his life, using his eye for precision and his joint loves of calligraphy and watercolour, Dad created a pair of simple but nevertheless beautiful maps of part of Chorlton as it was when he was a lad. As well as the roads and landmarks, he included the names of the people who lived in the houses; he noted the different shops (two sweetshops, three grocers and two confectioners in one road!) and the small farms that were still there then.
The maps were safely tucked away after Dad's premature death. Some years later, when I was toying with the idea of a story based around an antiques shop, I happened to take the maps out – and I knew exactly where my book should be set and the exact corner where my antiques shop should be situated.
In 1920, when The Deserter's Daughter starts, Chorlton was a small, quiet township. Many of the features that were there then are still there today. Various local roads and landmarks feature in the book, some of which have a particular role to play in the plot; such as Jackson's Boat – don't be fooled by the
name: it's actually a bridge, pictured here in 1915. As Ralph reflects in the book, 'Presumably somewhere back in the mists of time, there had been a boat and it had been rowed to and fro by a bloke called Jackson, but for as long as anyone could remember, Jackson's Boat had been a bridge.' Jackson's Boat crosses the Mersey, linking Lancashire with Cheshire.
Also: the beautiful lych gate (pictured here in 1928) with its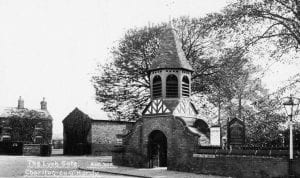 distinctive octagonal bell-tower, which was built in 1888 and these days is a listed building. The lych gate commands the entrance to the old, long-gone St Clement's Church. The new St Clement's Church up the road was in use well before The Deserter's Daughter opens, which is why, in the book, the Armstrong family requires special permission to hold a family burial in the old graveyard.
I hope lots of readers will enjoy taking a walk with Carrie, my heroine, through the streets of Chorlton.
(The photographs are reproduced by arrangement with Manchester Central Library, Archives & Local History.)