I was incredibly suprised to read in The Bookseller that Penguin will be publishing Where The Sidewalk Ends, by Shel Silverstein for the first time in the UK this autumn. Surprised, because I couldn't believe the book had never been published here before!
This book – a collection of quirky, funny and imaginative poems inextricably tied to wonderful illustrations – was my childhood Bible. I can not tell you how many hours of life I have spent pouring through the pages, rereading favourite bits, reciting the poems off by heart, marvelling at the drawings, at the ideas. It is probably responsible for making me want to write, to draw, to be creative and for making me love the absurd. It was published the very year I was born (1978), was given to me some years after, and has held a very special place on my bookshelf ever since.
To even conceive that this gem of a book might not have ever officially crossed the Atlantic – well, it would simply never have crossed my mind.  If only it had… in fact, I feel slightly dejected at the thought that I missed an opportunity to champion it here.
On that note, I had better go check the UK publication status of Hans Christian Andersen's stories…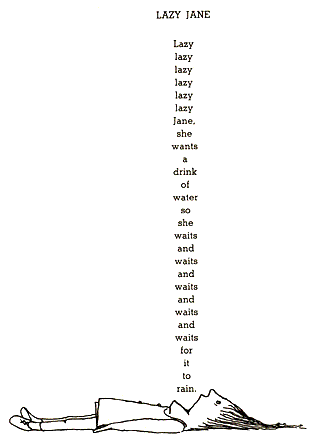 Chiara Priorelli, Publicity & Online Marketing Manager