For my latest Dickens post, I have taken inspiration from my most recent and possibly favourite Dickens read, Little Dorrit. If you didn't catch the BBC adaptation I would also urge you to seek it out, Claire Foy was excellent. Now, although there is a Little Dorrit Court and a Little Dorrit Park in Southwark, not far from Borough High Street, the actual Marshalsea prison is no longer in existence, only a wall and gates still remain (see picture below).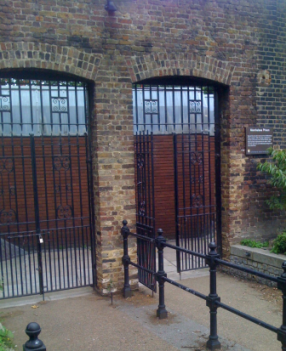 This prison where Dickens' father was imprisoned obviously left a lasting impression on him, and it's fair to say that although we don't have debtors prisons today, we're still beleaguered with many of the same social problems Dickens encountered on his frequent walks around the city.
As Stephen Smith in the recent Newsnight piece reminds us, the phrase 'Dickensian' conjures up images of exploitation and desperate living and working conditions. It's the go-to word if you want to convey grim. With homelessness, prostitution, fuel and food poverty to name just some evils abounding, we're not far away from the world that Dickens would have recognized all too well.
Tomalin's biography spends a fair portion of time discussing Dickens the reformer, the journalist who travelled the country to report on conditions for workers, which brought Hard Times vividly to mind. But what I found more interesting was the (new to me) detail that Dickens founded a 'Home' (home in the best and least institutionalized sense) for women trying to put previous lives as prostitutes and thieves behind them.
Life in the big city can be hard at times, so here's to modern-day philanthropists like Mr Dickens and charities like Shelter helping people stay in their homes at this tough time.
Lesley-Anne Crooks, Sales & Digital Manager