What poems do you turn to for comfort?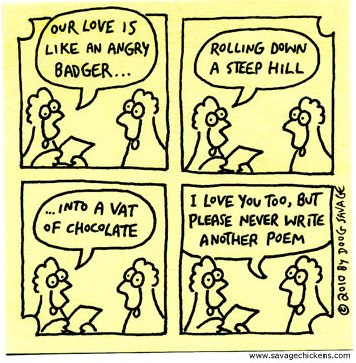 Given the amount of time I spend trying to think of blog topics, I can't believe I forgot National Poetry Day the other week. One of my favourite features was from The Guardian: a question and answer session entitled Poetry Prescriptions, where those writing in with the usual agony aunt complaints were prescribed some apt poetry to solve their problems.
It reminds me that we don't need a national day to read some lovely verses – perhaps we should try poetry as a therapeutic cure more often. I think it can be especially effective at cheering us up as summer fades into autumn – chilly weather seems much more romantic when you're reading 'Season of mists and mellow fruitfulness'. (And speaking of Keats, here's an article on an intriguing new theory of his death.)
Do you have any favourite odes to autumn, or verses with good advice for life's complaints? What poems cheer you up when you're feeling under the weather?
Sara Magness, Editorial Administrator